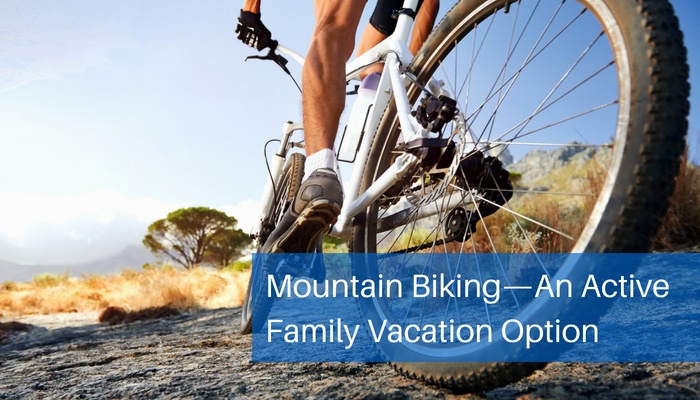 Physically active vacations have exploded in popularity. Diving in the cenotes, ziplining in the Amazon, and climbing in the Alps are all trips which at one time were an activity done during a vacation and are now the focus of the vacation. As busy families look for ways to connect and unplug, sports-focused trips continue to prove a perfect opportunity for adults and children to stay physically fit while enjoying a new location and each other. Mountain biking, therefore, is a perfect mix of this; with a combination of skills most family members have mastered (bicycling) and the beauty of nature or the wonder of a new place.
However, before your city-dwelling family tackles a 10,000-foot ride, it is important to prepare your bodies and plan your event. It can be a wonderful experience for a family, where kids gain an increased sense of freedom and the confidence of tackling something new. This doesn't have to be a 6-month training program--taking some steps to practice the activity and organize the strategy will help to ensure your vacation is a success, both physically and mentally.
Prepare Your Team for the Challenge
Get the right bike. Take your family to a professional bike shop to be fitted for the right size bike. Whether you choose to purchase an entry-level "starter" bike or something with a few more bells and whistles, select something that fits your family.
Don't leave youngsters behind. Instead of waiting to start mountain biking until your children have mastered a two-wheeler, research equipment which keeps the family together. There are stokers (baby seats), Piccolos (attach to the bike but allows child to pedal), and even tandem bikes to let them share in the fun while easing into the physical part of biking.
Build endurance before your trip. Slowly add miles to your rides each time. Remember that you may have to deal with altitude differences, which can affect your abilities.  Allowing time for your body to adjust, modifying your goals, and knowing when to back off are important when riding at a significant altitude change.
Understand the physical limitations of your younger members. This is where the tandems may come in handy. Make your first few trips short for younger riders.
Try out a pump track. These terrain parks are designed to provide riders with a variety of obstacles to challenge their mountain biking abilities, such as loops, uneven surfaces, and banked turns, all of which can be maneuvered through without pedaling. This allows young (and old) riders to fine-tune their skills without committing to a day-long trip.  
Enter Local Races or Try Day Trips to Test Interest
Many suburban areas have parks where families can find both paved, and possibly even dirt, surfaces to ride on. You can find multiple websites where trail details, including length, conditions, and difficulty ratings, can be found. In most states, open spaces are within reasonable driving distance for those who are testing the waters of a longer ride. 
Focus on the Fun (for kids) and Remember the Benefits (for adults)
One of the greatest benefits to mountain bike riding is that it attracts both kids and adults for a variety of reasons. Adults enjoy the physical benefits:
Biking is easier on the body---none of the joint-pounding found in running (although your legs may turn to jelly after a long ride), the intensity can easily be modified, and you can simply enjoy the scenery around you.
One study showed short, intense bursts of cycling several times a week can slow the aging process. It also found that resistance training alone provided no increase in the same benefits.
There are some great benefits to your lungs from cycling training: deeper breathing, improving the efficiency of your lungs (using what you have more efficiently); your abdominals get a real workout! Your PowerLung respiratory muscle trainer can boost the effects of biking by providing additional training to your lungs without having to modify your biking schedule. Further, the PowerLung is portable, so you can take it with you wherever you and your bike venture to!
Children, on the other hand, just want to have fun!
Mountain Bike Vacation Planning
Now that your family is sold on the idea of mountain biking as part (or the center) of a vacation, there are a few tips to making this idea a successful reality:
Rent or bring your own bikes. Although your team is likely comfortable with your own equipment, don't let your inability to haul bikes to your location prevent you from planning a great trip. Some of the most popular biking locations offer rentals, both for adults and children (along with bike trailers and Piccolos).
Consider combining camping and biking—most kids' ultimate dream vacation! A camper often provides an additional spot to store bikes.
Let them expand their knowledge and abilities---and reign yours in. This type of vacation provides opportunities for kids to take the lead, either in choosing the tail, the speed, and some of the places you can visit while biking. What a great confidence-builder!
Invite friends to go along with you—By combining people with all levels of ability, you can customize a trip to suit everyone's needs and abilities, while providing a home base for everyone to gather at the end of the day.
Stay Fit while vacationing with Mountain Biking!
As increased computerization and online presence leads our culture to become more sedentary, it is more important than ever to create physically active experiences for families. Additionally, our urban and suburban lifestyles make bicycling a more viable form of transportation and enjoyment. The balance of physical activity and fresh air makes mountain biking one of the ultimate family vacations, and one which can be planned affordably without years of saving! Hit the road with you children, stay active, and discover the beauty of nature with mountain biking!
{{cta('8f6face9-7d26-476b-a16a-baa8678193c9')}}