The PowerLung makes for an excellent choice for your Christmas shopping! You can rest assured that you are literally giving the gift of good health. The PowerLung is rather unique in that instead of using flow restriction – similar to breathing through various sized straws – we utilize a pressure threshold approach. Pressure threshold is akin to strength training. Just as your arms or legs have vital muscle groups, so do your lungs – and that's what PowerLung aims to strengthen.
Depending on your lifestyle, goals and current fitness level, we offer four devices, each customizable to an extent to grow in resistance as your lungs improve. The following PowerLung Gift Giving Guide offers a quick snapshot of the benefits of each model, so you can be sure to purchase the right product for your friends and family.
AireStream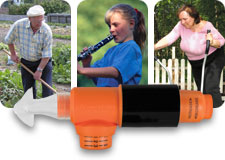 The AireStream is meant to help those who would like to enjoy their daily activities without breathlessness and fatigue. It can also help musicians and performers who would like to master breath-control to excel in their craft. The AireStream is most popular with the following audience:
Those beginning a light exercise routine
Those with shallow breathing looking to improve
Singers and musicians looked to improve breathing techniques
Those in a wellness or recovery program
BreatheAir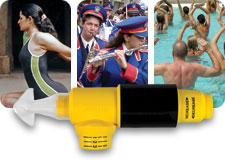 The BreatheAir is a step up from the AireStream offering slightly more resistance. Typically those who favor this device exercise 2-3 times a week in low intensity activities like walking, swimming, yoga or martial arts. The BreatheAir is most popular with the following audience:
Those who are moderately active exercising with low intensity activities 2-3 times per week
Those who want to deepen their breathing
Those who want to be able to project their voice and improve breath control for activities like debate or theater
Musicians who want to learn good breathing form
Trainer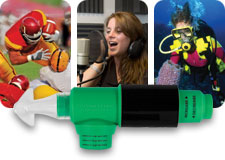 The Trainer model moves past recreational exercise and performance, catering more to athletes and advanced musicians. The Trainer is also excellent for more advanced excisers who find it growing more difficult with age. If you're looking for help in competition performance and a speedy recovery, the Trainer is your model. In order to make sure you're selecting the right model, make sure the loved one you're purchasing for falls into one of these categories:
Those who are in good physical and aerobic condition
Those who exercise or train for running, cycling, or sports at high intensity almost daily
Those who want to improve their Target Heart Rate Zone and breath management
Those who are a professional or advanced musician who wants to play, sing or perform more relaxed for longer periods of time
Those who play a high-pressure instrument but don't always have time to warm up before or between performances
Sport
The Sport model is specifically geared for elite athletes and those with extremely physically challenging jobs. It offers the highest levels of resistance available in PowerLung. This model is not usually recommended for musicians or the casual user, even if their activity is moderate to high. The following would benefit from a Sport model:
Elite athletes on the conditioning level of someone in Navy SEALs, Special Ops or SOCOM community.
Those who want to perfect managing breathing to for optimal performance
Gift the Gift of Health - With No Shipping!
Celebrate National Free Shipping Day With Us December 18, 2013
To aid you in giving the gift of health this year, we are participating in National Free Shipping Day, December 18, 2013. Pick out the model of choice, and enjoy free shipping all day!
Be sure to enter code SHIPSFREE upon checkout.
See Terms and Conditions here.
{{cta('de078337-44dd-4185-bc6d-b82c5d07e03d')}}