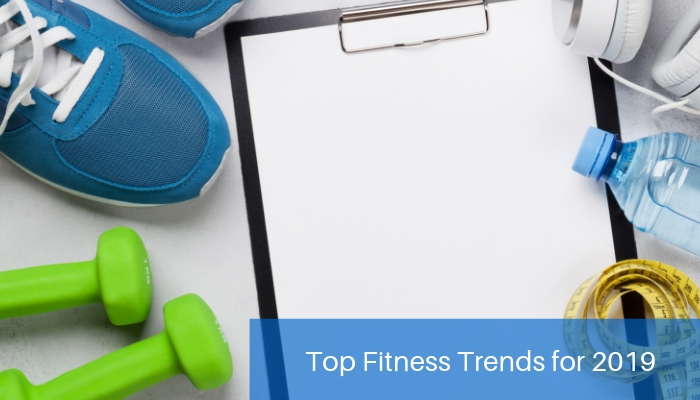 For 13 years now, ACSM has presented a survey showcasing the top trends in fitness. For 2019, the survey indicates a variety of developments, many of them remaining on the list from previous years but held in place by technological advancements which simply improve their effectiveness.  Some are tools, others are activities, and yet others are simply mindsets to wellness.  He results are useful for both the fitness industry and individuals looking to either add something new to their routine or looking for validation that they are on he right path. Let's discover some of the trends leading the world of fitness today:
Wearable Technology
This trend has proven its success, having appeared in the top 3 since 2016. Perfect for tracking small specific goals (how many steps taken, how many hours slept, calories burned). Can really give you a good idea of your current fitness level and to assist in making goals. However, they can be inaccurate, leaving you in the dark, while some users slack off based on a false sense of achievement. RELATED: Digital fitness is on the rise, as our society has become increasingly mobile AND connected. We will witness a growth in streaming workouts, audio workouts, virtual reality workouts, and anything else which can help users on the go.
Group Training
Perfect for those with a competitive spirit, group training activities help to keep athletes motivated and accountable. From classes to scheduled times in the weight room, thousands of studies have shown that exercising with fiends increases success rates. Just the emotional support and challenges are enough to get many would-be athletes in the gym;  and the friendly pressure keeps them working out longer. CAVEAT: Some studies show that the fitness achievements were not highest in group workouts; however, emotional benefits balanced a slightly lower physical results, which is worthwhile on its own.
High-Intensity Interval Training (HIIT)
In opposition to group training, one of the reasons that HIIT has remained at the top of this list is the ability to be done anywhere, anytime. HIIT training routines are usually short and involve bursts of high intensity exercise combined with short periods of either rest or low-impact exercises. Users can find HIIT classes in gyms, workout videos, and even how-to guides which can be completed at home, in the park, or while on vacation. This is a perfect way for home gym users to combine what they do well with something new, and high intensity workouts have been proven as great fat-burners.
Body-weight Training
Resistance training has been popular for many years and using your own body to "lift weights" benefits all types of athletes. With no fancy equipment to purchase, this type of training can be done anywhere with little investment, time or money. When combined with other exercises, body-weight training goes far to increase weight loss. Besides, who doesn't know how to do a plank?
Employing a Professional Trainer
Still a popular approach to exercising, either for weight loss or a sport, hiring a professional allows you to concentrate on the workout and not developing a routine specific to you needs. Professional trainers are just that…professionals…and their experience and education offer you a customer approach to your goals, share with you what they have found successful, and show you how to use fitness tools.
Yoga
Not a newcomer to this list, yoga has been a proven method of fitness for thousands of years. The popularity of meditation and caring for the "mind and soul" have helped yoga remain a leading method for fitness, and rightly so. With variations in styles (Haha, Yin, Restorative, Vinyasa, Iyengar, Bikram, and Kundalini all have a slightly different approach), yoga can work for fitness lovers of all abilities and ages. It has been shown to reduce stress, improve flexibility, and boost immunity; any of these benefits are worth adding yoga to your fitness plan!
Fitness Programs for Older Adults
Just because you have reached an age where you feel as though you can't keep up with some of the sports and physical activities you participated in when you were in you 20's, it doesn't mean that you have to give up athletic training altogether. Studies have shown how physical activity keeps the body young, and with a large baby boom population, fitness professionals see (in dollars) the benefit of offering programs specifically for those clients. To further drive up the value of exercising in the "silver years," studies have shown extensive brain benefits.  
Functional Fitness Training
Not just for athletic benefit, the functional fitness training approach to fitness adds a hint of common sense and physiology to working out. Consider every movement you do in a day and understand that your body is functioning to make it happen. Workouts designed to help you increase your functionality while sculpting your body combine the "best of both worlds" for many average exercisers.
Why Respiratory Training is Key to Fitness
No matter what trend appeals to you in 2019, respiratory strength plays a key part in your success. Breathing techniques have shown to increase fitness levels, and a respiratory muscle training (RMT) device increases the efficiency of lungs in all users, from elite athletes to everyday fitness buffs, from older adults wanting to maintain their lung strength to COPD and asthma sufferers looking to improve their health.  When your lungs are tired, your physical performance is reduced. Adding a RMT device like the PowerLung increases the stamina and strength in respiratory muscles, improving workouts and benefiting health. In only 10-15 minutes, a respiratory muscle training workout will increase your athletic abilities and reduce your recovery time, making each workout more effective.
{{cta('b238e970-6835-4f54-a5d3-60ae2b6414d1')}}